Nanomedicines for Drug Delivery (NANOMED)
Nanomedicines for Drug Delivery (NANOMED)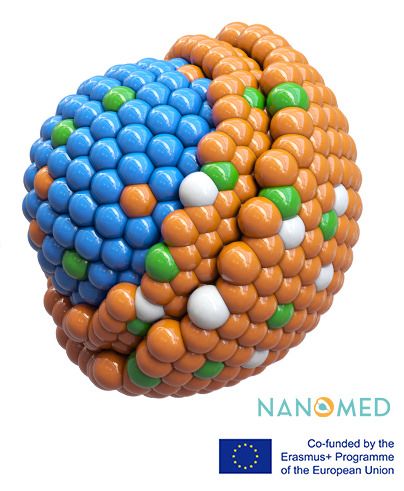 The Nanomedicine for Drug Delivery (NANOMED) Master's degree is a 24-months curriculum offering a high quality and multidisciplinary education in the emerging field of Nanomedicine. The design of nanomedicines for drug delivery requires combining knowledge from Pharmacy, Biology, Chemistry, Medicine, Physics, and Engineering. Thus four European Universities have brought together their expertise in Nanomedicine to create a unique and comprehensive training programme: Paris Descartes University (coordinator, France), Patras University (Greece), Pavia University (Italy) and Angers University (France).
Moreover, renowned experts in the field of Nanomedicine coming from academia and industry are also involved as guest Lecturers or invited Professors. The curriculum provides both theoretical and practical knowledge for 3 semesters combined with a 6-months traineeship. Application requirements will include the completion of a Bachelor's degree in Pharmacy, or (under special provisions) in Medicine, Chemistry, Biology, Biotechnology, Chemical Engineering, Biochemistry, Material Sciences or other adequate discipline. English language proficiency is a main requirement.
The NANOMED EMJMD (Nanomedicine for Drug Delivery) aims at filing the gap between basic training in Drug Delivery currently provided by most Schools of Pharmacy at the Master's level, and advanced knowledge in Nanomedicine required for post-graduate young scientists. The NANOMED graduates will thus understand and be able to integrate the advances in Nanotechnology towards the development of Advanced Particulate Drug Delivery Systems.
DIPLOMA
NANOMED EMJMD students receive Titles from all four participating Universities, together with a Document signed by all four Academic Coordinators. The possibility for a joint-Diploma is currently being investigated.
TUITION FEES
The tuition fees for participation in NANOMED EMJMD are 4500 €.
For more details visit: